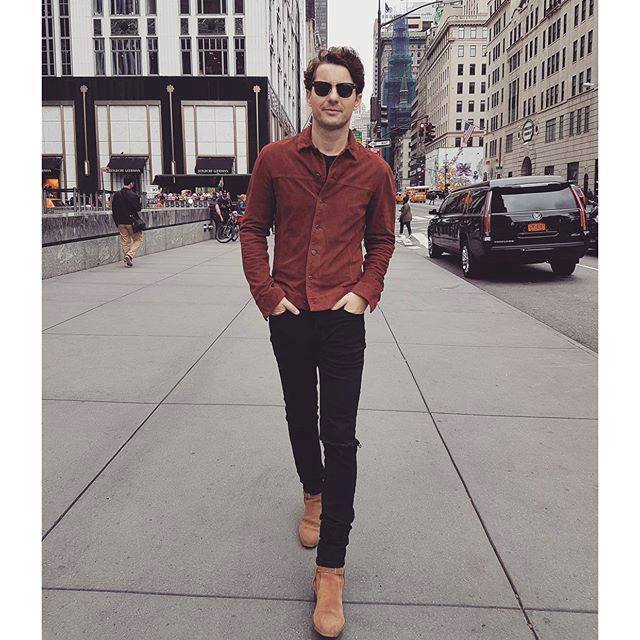 Autumn in USA – L.A, Seattle – Aston Manor, New York and Chicago, four cities in ten days. USA is always a beautiful…dream, is the American Dream come true for an Romanian artist who has the chance to spread his music all around the world.

My inspiration for the luggage was James Dean, the ultimate Hollywood Icon that makes you wanna experience the endless American wonder: rough, edgy, simple and yet so bold and statement. Is not about the clothes, is about the attitude, message and personality: jeans, sweaters, shirts and jackets in a monochrome colours. Where else than America, you can rock, in your jeans!! So I took a lot of pairs. The touch of boldness is made by the accessories that I had worn, that have American indian influences: leather boots and jackets, belts.

For Me the American Style is simple, comfortable, classic and versatile, monochrome, made with original fabrics, is about feeling good and relaxed in your own skin.

Toamna în Statele Unite ale Americii – L.A, Seattle – Aston Manor, New York si Chicago, patru orașe în zece zile. SUA este întotdeauna un frumos … vis, este visul american devenit realitate pentru un artist român care are șansa să răspândească muzica lui întreaga lume. Sursa mea de inspirație pentru bagajele a fost James Dean, ultimul Icon Hollywood care te face să vrei sa experimentezi nesfarșita minune americană: aspră, edgy, simplu și totuși atât de impunător. Nu este vorba despre haine, este vorba despre atitudine, mesaj și personalitate: blugi, pulovere, tricouri si jachete in culori monocrome. Accesoriile pe care le-am purtat au influente indiene americane: cizme de piele si jachete, curele.Pentru mine stilul american este simplu, comod, clasic si versatil, alb-negru, realizat cu materiale originale.. este vorba despre senzația de bine și relaxat în propria piele.
December 15, 2016

I believe that every man, has a Belstaff side of him: wild, crazy, provocative. Even if, our style is casual or corporatist, in our daily life, we all want to take his girl on the...

October 6, 2013

N-am vorbit prea des despre pasiunea mea pentru ceasuri dar uite ca acum am ocazia sa impart cu voi cateva pareri. Nu mai are rost sa spun ca ceasul este accesoriul care spune multe despre...

December 3, 2013

Vreau sa va anunt pe voi prima oara ca maine voi lansa un nou single si un nou videoclip, primul clip oficial Akcent in noua formula, cu trupa live. Impreuna cu echipa mea si casa...