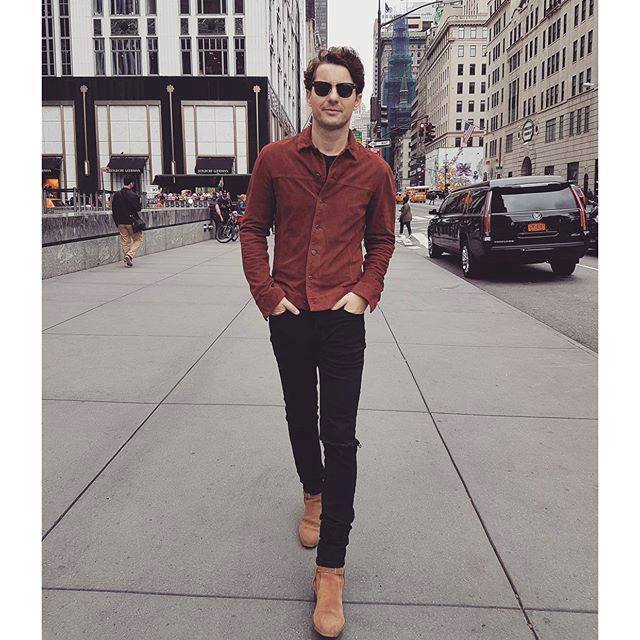 Autumn in USA – L.A, Seattle – Aston Manor, New York and Chicago, four cities in ten days. USA is always a beautiful…dream, is the American Dream come true for an Romanian artist who has the chance to spread his music all around the world.

My inspiration for the luggage was James Dean, the ultimate Hollywood Icon that makes you wanna experience the endless American wonder: rough, edgy, simple and yet so bold and statement. Is not about the clothes, is about the attitude, message and personality: jeans, sweaters, shirts and jackets in a monochrome colours. Where else than America, you can rock, in your jeans!! So I took a lot of pairs. The touch of boldness is made by the accessories that I had worn, that have American indian influences: leather boots and jackets, belts.

For Me the American Style is simple, comfortable, classic and versatile, monochrome, made with original fabrics, is about feeling good and relaxed in your own skin.

Toamna în Statele Unite ale Americii – L.A, Seattle – Aston Manor, New York si Chicago, patru orașe în zece zile. SUA este întotdeauna un frumos … vis, este visul american devenit realitate pentru un artist român care are șansa să răspândească muzica lui întreaga lume. Sursa mea de inspirație pentru bagajele a fost James Dean, ultimul Icon Hollywood care te face să vrei sa experimentezi nesfarșita minune americană: aspră, edgy, simplu și totuși atât de impunător. Nu este vorba despre haine, este vorba despre atitudine, mesaj și personalitate: blugi, pulovere, tricouri si jachete in culori monocrome. Accesoriile pe care le-am purtat au influente indiene americane: cizme de piele si jachete, curele.Pentru mine stilul american este simplu, comod, clasic si versatil, alb-negru, realizat cu materiale originale.. este vorba despre senzația de bine și relaxat în propria piele.
November 24, 2013

I'm in India right now and I'm getting ready to go on stage and put on a great Akcent Live Show for all my fans. Everytime I come here I feel like I'm meeting the...

February 10, 2015

I know it's been a long time since I haven't published any new photos or articles but the only reason for that is the fact that I have been working non-stop and I am still...

September 28, 2013

Am facut cateva poze in care am surprins prima zi de toamna, una in care frunzele aurii cad si imi dau o mie de idei pentru piese noi. E un anotimp romantic care ma inspira...