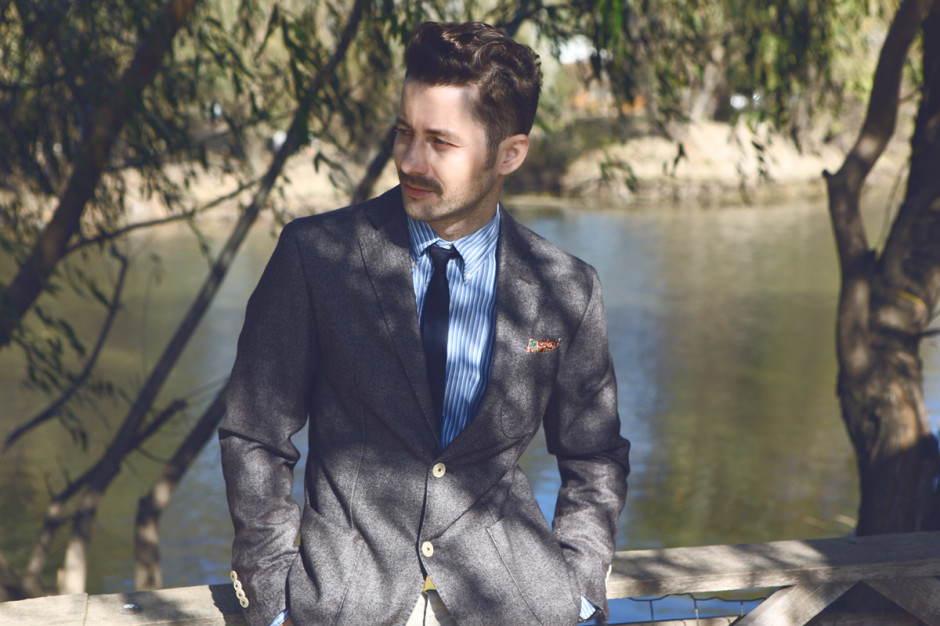 When I'm not running between concerts, I love spending time with the kids and my family at the animal farm where they play and have fun and I just watch them and I'm love stoned everytime.

It was a beautiful sunny day so I played around with my Ralph Lauren & Massimo Dutti clothes that I love so much. The jacket and the shoes are from Massimo Dutti. The shirt and the belt are from Ralph Lauren, the trousers and the tie are from H&M and the shades are Ray Ban, of course.

Even if it's family day out that doesn't mean I can't look elegant in the same time. I rarely quit my smart casual look. Sunday is for love: love for your family or your fashion or your little pleasures like looking at the ducks on the lake.

Don't you think so?

Cand nu alerg intre concerte, imi place sa petrec timpul cu copiii si cu familia mea la ferma de animale unde ei se pot juca in voi iar eu ii pot privi si sunt love stoned de fiecare data. E magic sa vezi bucuria copiilor, nu-i asa?

A fost o zi frumoasa si insorita asa ca am amestecat Ralph Lauren cu Massimo Dutti in outfit-ul meu. Sacoul gri si pantofii de piele intoarsa sunt de la Massimo Dutti. Camasa in dungi si cureaua sunt de la Ralph Lauren. Pantalonii bej cu camile albastre sunt de la H&M, cravata la fel iar ochelarii de soare sunt Ray Ban, bineinteles.

Chiar daca e o zi de iesit cu familia si de relaxare, nu inseamna ca trebuie sa renunti la hainele elegante. Mi se intampla foarte rar sa imi doresc sa port altceva decat stilul smart casual in care ma regasesc sau sa adaug elemente ceva mai elegante precum batista cu model special pe care am primit-o cadou sau un ceas din colectie.

Duminica e o zi pentru iubire, fie ca e vorba de iubirea din familie sau placerea de a ma uita la ratele de pe lac.
October 11, 2013

True Believer este piesa pe care o aveam in cap cand m-am trezit azi dimineata. "True Believers" este titlul celui de-al doilea album Akcent ce a fost lansat pe piata internationala in 2009. L-am ales...

November 10, 2013

This is the second part of the shooting I published yesterday. It's my experiment in finding out how different can a look be by seeing it a bit different. I went for a few drinks...

March 11, 2014

I love going to India everytime, I've been there so many times that it feels like a second home, the people are always so nice to me, so warm and they appreciate the Akcent music,...