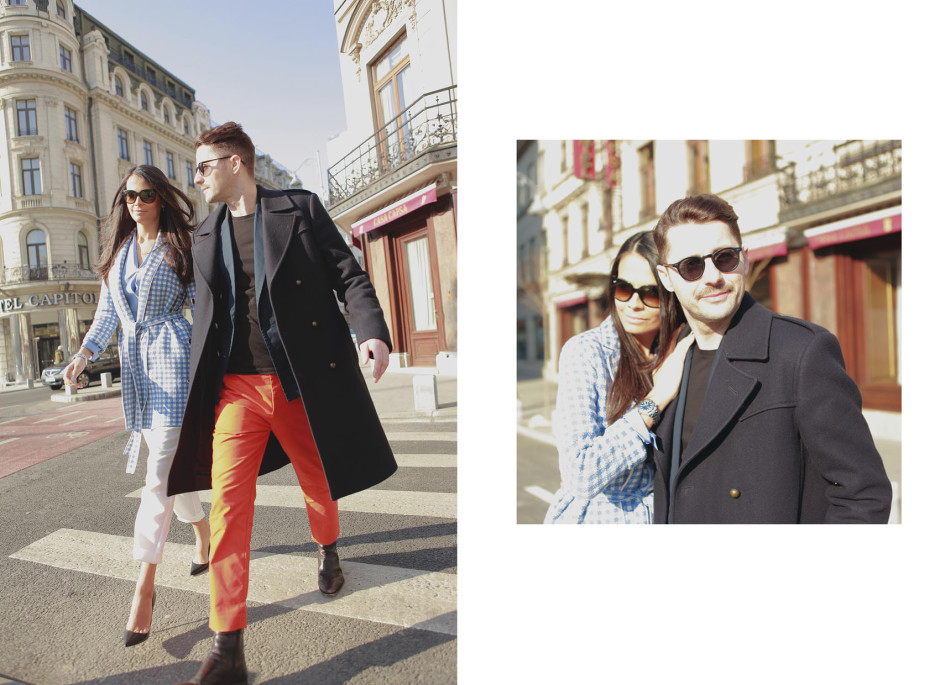 No matter how many love songs I'll write about her, it will never be enough to express my feelings for my special girl. I found my one love and she's the muse and the inspiration for many of the songs that I write, she is the glue that holds our family together, the special lady who knows how to make me smile, who knows my weaknesses, my strong points and I only need a look from her to know what she's feeling.

Oh, and did I mention that she is the most beautiful woman in the world?

We went out for a nice walk in the sun this morning. We started Valentine's Day with a great surprise breakfast and we continued with a walk on Calea Victoriei, one of the most romantic places in Bucharest. I had to run to do a show in my hometown tonight but I can't wait to have a special dinner with Anca.

I wish you a Happy Valentine's Day and I hope you will enjoy this holiday as much as I do. Let it be full of everything you wish for!

She is wearing a full Stefanel outfit with Ray Ban sunglasses and Louboutin shoes. I am wearing H&M trousers & jacket, vintage shades, COS t-shirt and overcoat from Lanvin X H&M.

In the city lights,
She's like a brilliant
I dreamt she'd hold my hand
She's shining on the way
Hot summer light,
Like the middle of July
Your lips are close to mine
That crazy summer light
May 23, 2014

We shot a second video for KAMELIA because it was requested all over the world. The feedback that I received for this song is absolutely incredible, it might become the biggest Akcent song in years....

September 24, 2013

Dupa cum stiti, am lansat un single nou si chiar daca "am aflat ce inseamna viata grea" si "Nu ma tem de ea", recunosc ca am avut o multime de emotii in legatura cu acest...

September 26, 2013

Am legat titlurile articolelor de piese compuse de mine pentru Akcent pentru ca imi doresc sa nu inteleaga nimeni ca as renunta la moda pentru muzica. E o pasiune adiacenta, e ceva ce a facut...