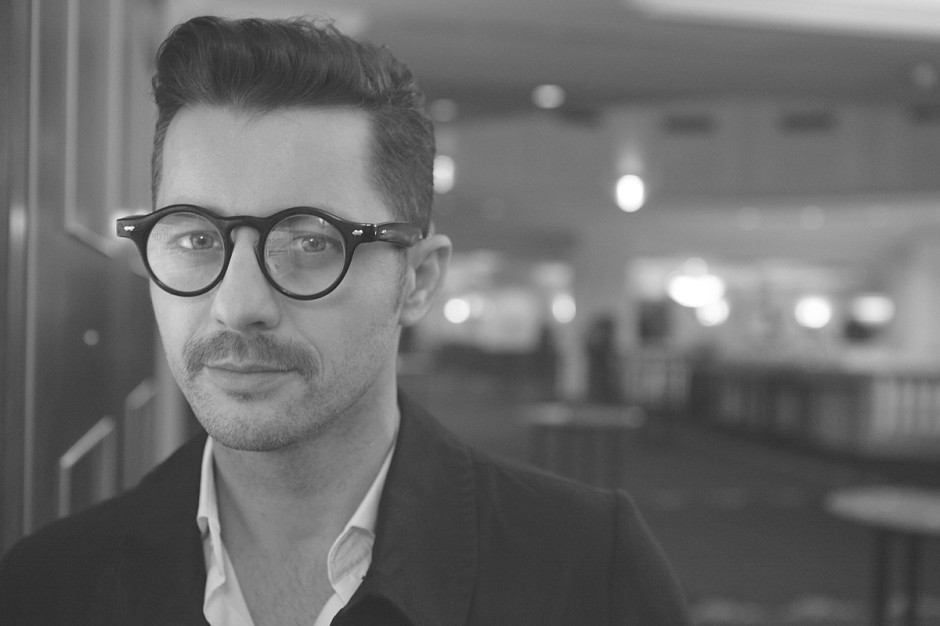 This is a special post. It's a dual shooting that I did in the same location but I wanted to show how different it can look when it's black and white or color. The first one is black and white and it's one of my favourite photo shootings I've done so far.

What I love about this blog (and that's also the reason I wanted to start a fashion blog about men clothes) is the fact that I'm able to try new things when it comes to visual art and fashion – photography, artworks, video and the way I choose to combine and mix my clothes. I'm working one some special videos and artworks, you'll see them pretty soon.

I went for a few drinks at the Marriott Hotel in Bucharest. I've been there so many times but this time I felt something special so we decided to take some photos in the small shopping gallery and in the hallway.

It was a cold night so I was wearing my Marni trench, my black TopShop trousers, a white GAP shirt, shoes from Zara and glasses from Amazon.

That's my name, that's my name, that's my name!

De data asta am un articol special cu un shooting dual pe care l-am facut in acelasi loc insa am vrut sa arat doua fete diferite si cat de diferite sunt lucrurile in alb si negru. Prima postare este in alb-negru si este unul dintre shootingurile mele preferate pe care le-am facut in ultima vreme.

Lucrul care ma incanta cel mai tare la blogul acesta (iar asta este si motivul pentru care am vrut sa pornesc un blog de moda pentru barbati, cu haine pentru barbati) este faptul ca pot sa incerc o multime de lucruri noi pe partea vizuala: arta, moda, fotografie, artwork-uri, video si felul in care combin hainele.

Am iesit sa beau ceva la Marriott Hotel in Bucuresti. Am fost atat de multe ori acolo insa de data asta a fost diferit, am simtit ca putem sa facem ceva special pe partea de fotografie asa ca am facut o serie color in galeria cu magazine de lux si pe holurile hotelului, la primul etaj.

A fost o seara mai rece asa ca am pus trench-ul Marni, pantaloni negri de la TopShop, camasa alba de la GAP, pantofii de la Zara si ochelarii de vedere cu rame de pe Amazon.
February 12, 2015

Traim si iubim fara a sta cu ochii pe calendar si nu asteptam ocaziile "oficiale" pentru a ne sarbatori dragostea. La fel cum nu asteptam nici anumite zile pentru a ne face daruri unul altuia....

April 4, 2014

The part about fashion that I enjoy the most is dressing up. This time I chose something inspired by the Romanian Gypsy culture which is rich and full of floral shirts, extraordinary shaped black hats,...

May 23, 2014

We shot a second video for KAMELIA because it was requested all over the world. The feedback that I received for this song is absolutely incredible, it might become the biggest Akcent song in years....